Season: December to March | Trip Length: 6-8 hours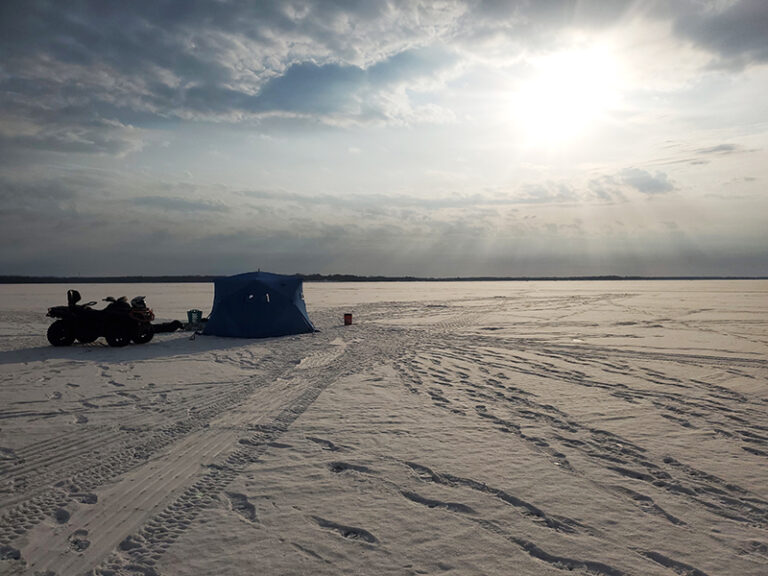 Come on an unforgettable adventure on the hard water targeting various species of fish through the ice. We use specialized gear which includes an insulated and heated hut for you to stay warm. Snowmobiles and four wheelers to get around when the conditions allow for it. Top of the line electronics that enable us to jig for fish through holes drilled in the ice. These trips are great for people that are looking for some solid action and our automatic fishing devices allow anglers to do as much or as little as they would like. 
We target most NYS freshwater species all winter long including Walleye, Northern Pike, Tiger Musky, Various Trout Species, Landlocked Atlantic Salmon and Perch.
Trips are catered to the client's needs. The targeted species will determine its location. Most fishing locations are within one hour of Syracuse, New York.
Everything you need to fish is included in your trip. We ask that you arrive dressed for the weather conditions, have a valid NYS license and bring any snacks or drinks you might want for the day.
Absolutely no experience is required. These trips are great for everyone from the most engaged fisherman looking to sharpen up their jigging skills to a young child that would just love to chase flags all day and pull fish up through a hole in the ice.
2 person trip 6 hours – $400
2 person trip 8 hours – $450
3 person trip 6 hours – $600
3 person trip 8 hours – $650

Contact us if you have any questions about a trip or about making a special trip to better suit your needs.